Criteria for how to choose oxygen regulator
Our primary customer base is located in the United States where 540 regulators are commonly used to attach industrial oxygen tanks without any issues. However, it's essential to note that this may not always be the case in other countries.
For international ozone users, it is recommended to purchase industrial oxygen tanks locally by searching for "welding oxygen supplier" near their general area. It's important to keep in mind that some countries may have slightly different methods of measuring oxygen, so having a general idea of tank size and amount will be helpful. Typically, a tank height reaching mid-calf or knee should last several months based on usage.
Before considering a purchase from us, it's crucial to verify the type of oxygen tank you have and its compatibility with regulators. Consulting with medical suppliers to determine whether a "Bullnose" or "DIN 477 #6" regulator would fit onto their tank can be helpful.
It's worth noting that international oxygen standards vary significantly, and we are continuously improving our understanding of these variations. If you have any suggestions or useful information related to this topic, please feel free to email us at info@aquapureozone.com
Multiple tank and regulator combinations are utilized worldwide. Therefore, it is essential to conduct research and verify compatibility before making any purchases to prevent any complications or issues.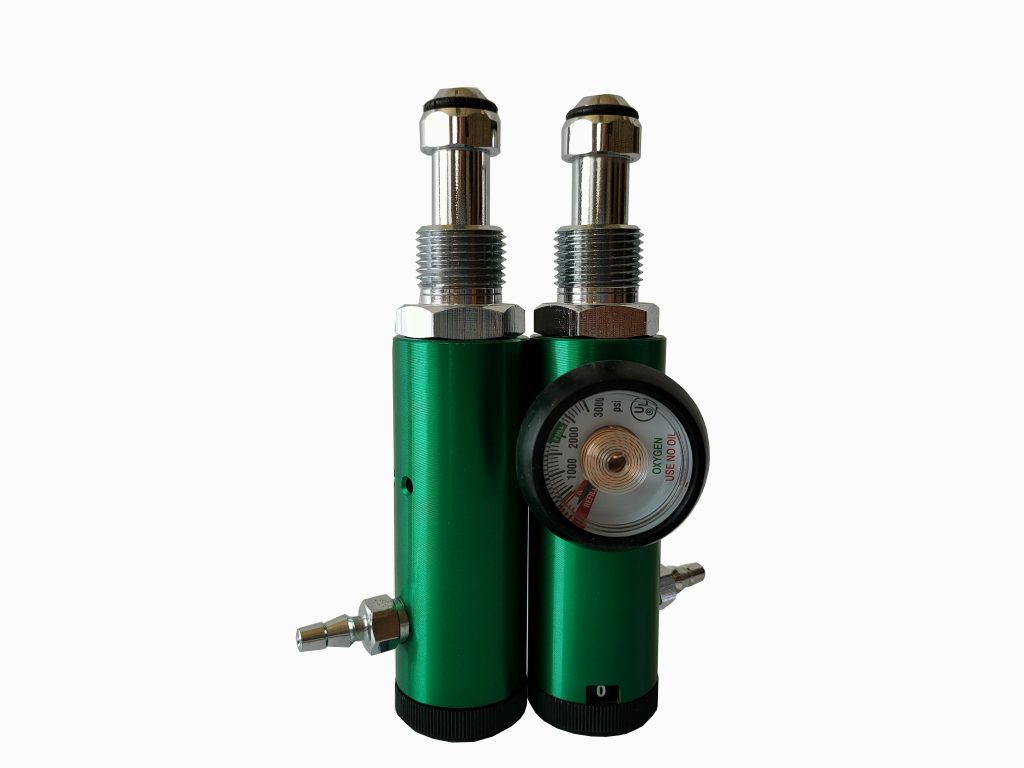 Criteria for how to choose oxygen regulator?
How to choose oxygen regulator -The bullnose regulator is a standardized connection for industrial oxygen tanks in the UK and Australia, similar to the 540 industrial oxygen tank regulator commonly used in the United States. This type of regulator is utilized not only in the UK. Here is a list of countries where the bullnose valve is used:
Country
Model
United Kingdom
Bullnose Regulator/BN1
Ireland
Malta
Netherlands (with some exceptions)
Nigeria
Libya
Egypt
Liberia
South Africa (for larger tanks)
Australia
New Zealand
Fiji & Tonga
Papua New Guinea
Hong Kong
India
Indonesia
Malaysia
Maldives
Vietnam
Thailand (with some exceptions)
United Arab emirates
Iraq
Yemen
Jordan
Kuwait
Pakistan
Saudi Arabia
How to choose oxygen regulator -The DIN regulator stands for the German Institute for Standardization and is another standardized connection for industrial oxygen tanks. Like the 540 and bullnose standards, the DIN valve is used in several countries worldwide.
Apart from Germany, there are a few other countries that utilize DIN valves as well, including:
Country

Model

Germany

DIN Regulator/540 Germany Standard

Austria

Poland

Switzerland

Bulgaria

Israel

China
How to choose oxygen regulator -SMS-690, UNI 4406, DIN-477 #6 This type of connection is the same for SMS-690, UNI 4406, and DIN-477 #6. Even though they have completely different names and designations, the dimensions are the same. SMS-690 and UNI 4406 differ by 0.1mm, but the regulator for those tanks will work on either style. These regulators also work on DIN-477 #6 tank valves. SMS-690 is common in Nordic countries, while UNI-4406 is the standard for industrial oxygen in Italy, a few other Southern European countries, and several countries in South America and Africa. See the list below.
Country
Model
Italy
SMS-690, UNI 4406,
DIN-477 #6/Swedish Standard
Albania
Czech Republic
Cyprus
Denmark
Finland
Sweden
Norway
Luxembourg
Liechtenstein
Iceland
Poland (DIN 477 #9 is also used)
Hungary
Greece
Croatia
Other Balkan States
Brazil
Argentina
Uruguay
Paraguay
Peru
Chile
Ethiopia
Somalia
Afghanistan
Iran
Turkey
How to choose oxygen regulator -The NFE 29-656 regulator and tank valve fitting is also known as AFNOR, which stands for the French national organization for standards. This type of connection is prevalent in France and Spain and is also used in many other countries worldwide. Here's a list of some of the countries where NFE 29-656 / AFNOR connections are commonly found:
Country
Model
Belgium
NFE 29-656 / AFNOR
540 France standard
France
Greece (SMS 690 also used)
Spain
Portugal
Morocco
Tunisia
Angota
Mozambique
Syria
Lebanon
Now,do u know to choose oxygen regulator?
ortant to note that the list of international valve styles provided above is not exhaustive, as there may be a few other types out there. However, these are the main ones that we typically encounter in the industry.
Please keep in mind that this list does not guarantee that your specific country uses any of these types of tank valves, and it's highly recommended to double-check the valve on the oxygen tank in your country before making any purchases. If you're unsure about what type of regulator you need, please feel free to send us a picture of the oxygen tank and valve dimensions, and we'll do our best to assist you in selecting the appropriate regulator.
While buying a tank from another country may be a cost-effective option in some cases, it's crucial to consider the various valve and regulator options and combinations available. You may end up with a tank that is incompatible with any regulators in your country, resulting in additional expenses.
We hope this guide has given you a better understanding of which tank and regulator will work best for your specific needs. Please feel free to use it as a reference in your future endeavors with ozone, regardless of where you find yourself.