High quality 4-95ug/ml ozone therapy machine medical ozone therapy equipment for rectal insufflation therapy
High quality 4-95ug/ml ozone therapy machine medical ozone therapy equipment for rectal insufflation therapy The versatile and German designed Multi-functional Ozone Therapy Generator is used for ozone therapy applications and has the added functionality to be suitable for residential applications involving air and water purification. The Multi-functional Ozone Generator requires a supplementary source either air (from air pump) or oxygen (from oxygen tank) for operation.
High quality 4-95ug/ml ozone therapy machine medical ozone therapy equipment for rectal insufflation therapy
The AQUAPUREOZONE portable ozone therapy machine was using German latest corona discharge technology. To ensure the machine with a high performance, we use accurate quartz tube and Titanium electrode for the generator part, this is a small compact & economic design, easy operating and various concentration from 4-95 μg/mL, user can choose what concentration they would need to have according to our machine's capacity. There are 6 switches are available, and it can deliver pure ozone from low to high concentrations (4-95 μg/mL) for different therapy applications.Specially, it has been built-in both the powerful ozone destructor and ozone fan and makes the machine very convenient to use.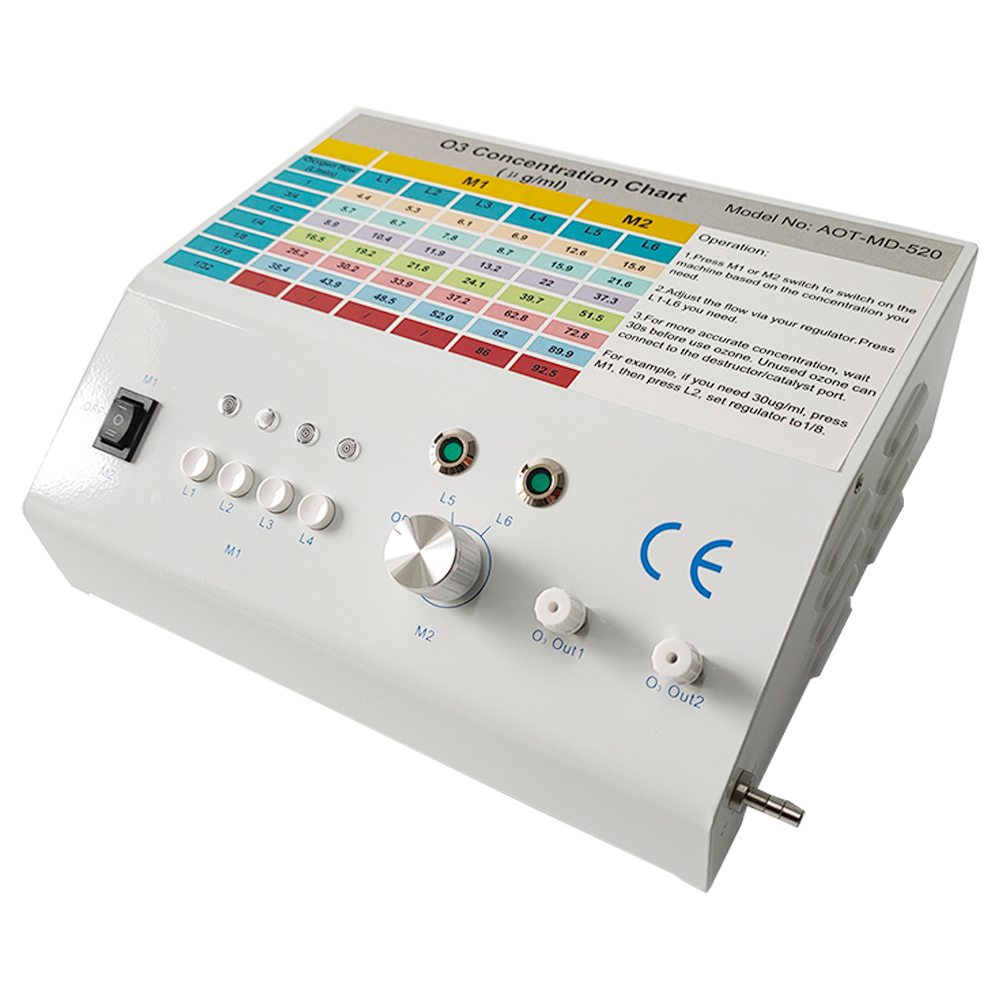 SPECIFICATION

Ozone concentration

4 – 95 μg/ml with oxygen source (adjustable)

Oxygen flow

1/32-1L/min

Continuous operation

24 h/day with inside cooling system

Cooling system

Air cooling,built-in a 15 CFM fan

Ozone generating method

German corona discharge

Input voltage

110V-220VAC

Power

15W

Weight

3 KGS with package

Size(L×W×H)

240×195×80mm

Carton Size(L×W×H)

280×270×125mm
Advantage:
1. High performance and compact design
2. Stable concentration and low power consumption
3. Easy operation with fashionable design
4. Built-in fan cooling system to make sure a long working life 5. Six optional levels to generate various concentration
6. Stable ozone concentration
7. Adjustable ozone concentration
8. 100% ozone resistance material
9. Ideal for all kinds of medical application
10. German ozone technology
11. Built-in ozone destructor
Notice: Please ask your ozone doctor for exact advice before doing the ozone therapy and dosage
Ozone stimulates the production of white blood cells. These cells protect the body from viruses, bacteria, fungi and cancer. If, deprived of oxygen, these cells malfunction. They fail to eliminate invaders and even turn against normal, healthy cells (allergic reactions). Ozone significantly raises the oxygen levels in the blood for long periods after ozone administration; as a result, allergies have a tendency to become desensitized.
Interferon levels are significantly increased. Interferons are globular proteins. Interferons orchestrate every aspect of the immune system, inhibit viral replication.
Ozone stimulates the production of Tumor Necrosis Factor. TNF is produced by the body when a tumor is growing. Ozone stimulates the secretion of IL-2. Interluekin-2 is one of the cornerstones of the immune system. It is secreted by T-helpers. T-helper causes it to produce more IL-2. Ozone's main duty is to induce Lymphocytes to differentiate and proliferate, yielding more T-helpers, T-suppressors, cytotoxic T's, T-delayed's and T-memory cells.
Ozone kills most bacteria at low concentrations. The metabolism of most bacteria is on average one-seventeenth as efficient as our own.
Ozone is effective against all types of fungi. This includes systemic candida albicans, athlete's foot, molds, mildews, yeasts, and even mushrooms.
Ozone fights viruses in a variety of ways. As discussed above, ozone also goes after the viral particles directly.
Ozone is antineoplastic. This means that ozone inhibits the growth of new tissue because rapidly dividing cells shift their priorities away from producing the enzymes needed to protect themselves from the ozone. Cancer cells are rapidly-dividing cells and are inhibited by ozone.
Ozone oxidizes arterial plaque. It breaks down the plaque involved in both Arteriosclerosis and Arthrosclerosis.
This means ozone has a tendency to clear blockages of large
Ozone increases the flexibility and elasticity of red blood cells.