28g Commercial Ozone Generators for Air and Water Purification
The commercial ozone generators typically comes with a control panel that allows for adjustable output levels, and it may be used in a variety of settings, such as homes, offices, and industrial facilities. Some models may also feature automatic shut-off functions, timers, and air quality sensors for added convenience and safety.
28g Commercial Ozone Generators for Air and Water Purification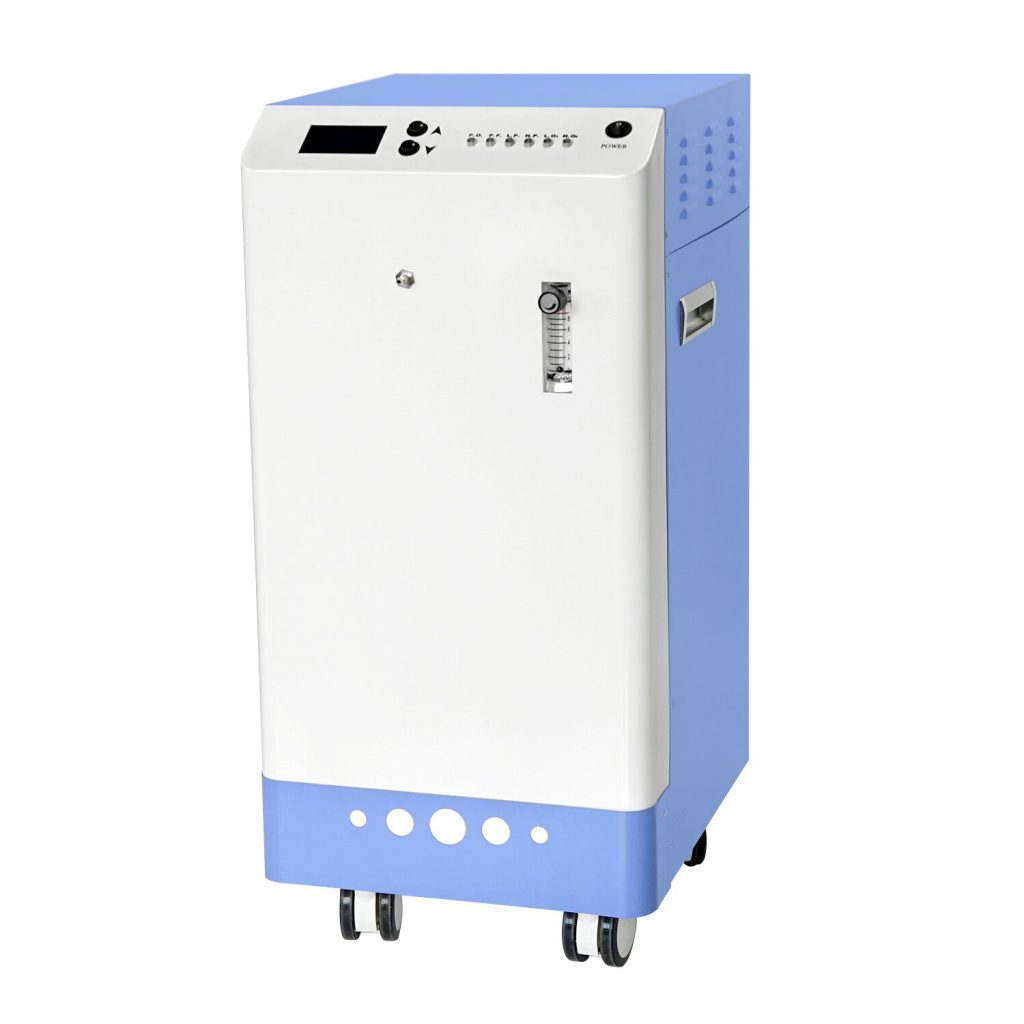 AQUAPURE series of commercial Ozone Generators are the smallest products in size and weight all over the world, when comparing to other ozone generators in markets. AQUAPURE Series of Industrial Ozone Generator can be widely applied in varied industries, such as swimming pool, fish farm, algriculture irrigation, medical plants, etc..You can save lots of cost because of their small size and high Standard
A 28g commercial ozone generators is a powerful device that can generate high levels of ozone gas for various applications. The generator is designed to produce ozone gas with a concentration of up to 28 grams per hour, making it suitable for large-scale applications.The device is equipped with advanced technology that ensures efficient and reliable operation. It features a high-quality ozone cell that is designed to produce stable and consistent ozone output. The generator is also equipped with a built-in air dryer that removes moisture from the air before it enters the ozone cell, ensuring maximum ozone production.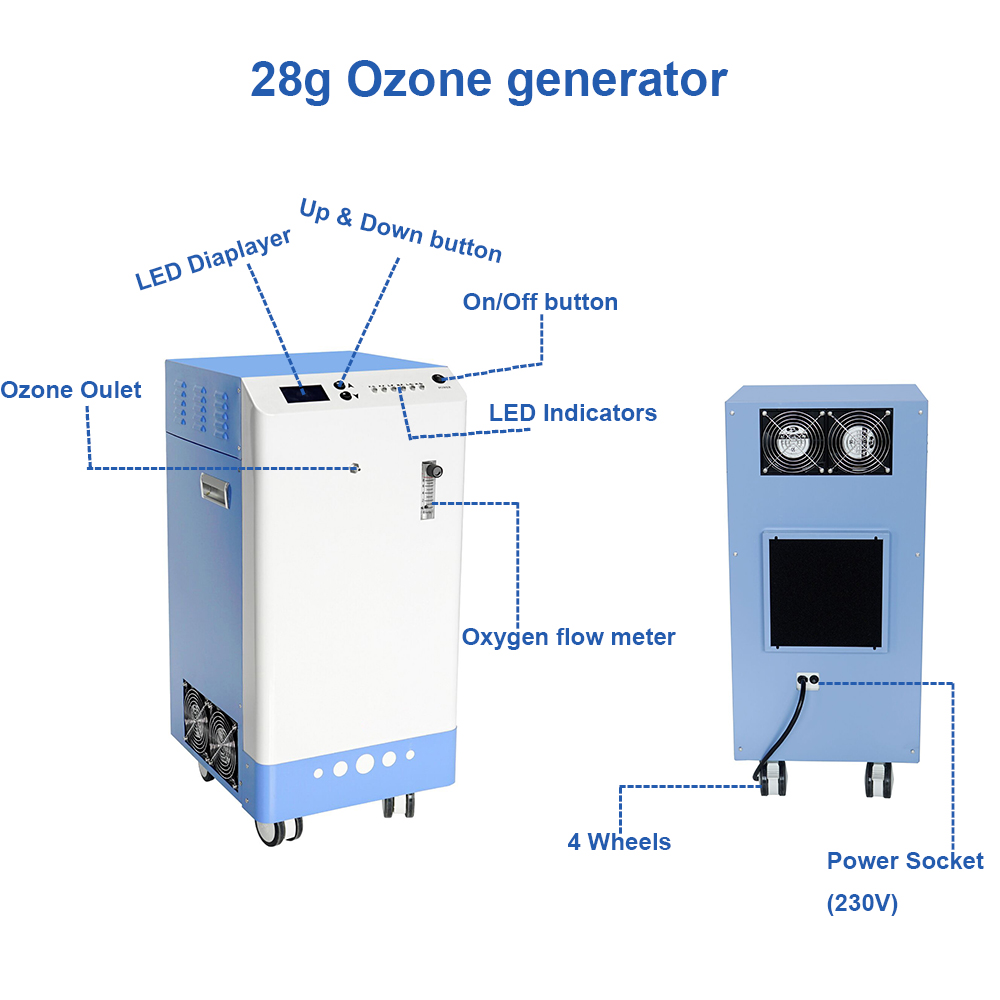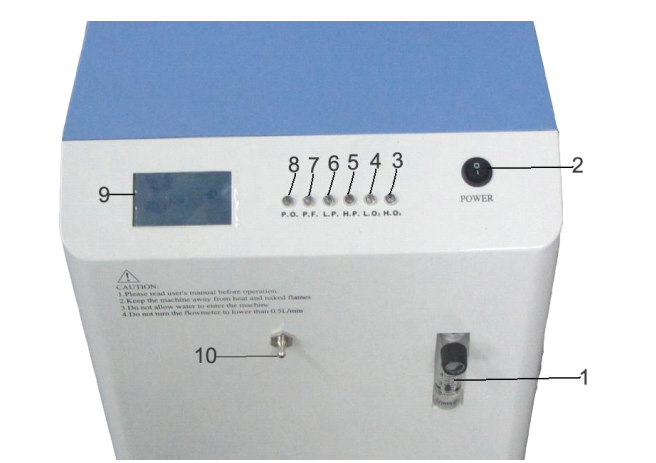 DETAILED OF OZONE GENERATOR 
 1. Flowmeter 
2. Power Switch 
3.H.O2.: oxygen purity is  85%, (blue lamp)(Accuracy:±3%) 
4. L.O2 .:oxygen purity is < 85%,(red lamp)(Accuracy:±3%) 
5. H.P.: high pressure(red lamp) 
6. L.P.: low pressure(yellow lamp) 
7. P.F.: power failure(red lamp) 
8. P O..: power switch (green lamp) 
9. LCD display10 Ozone Output
Features:
1. Ozone output: 8 – 28 g/h
2. High ozone concentration: > 58 mg/L
3. Built in oxygen concentrator: > 90% purification
4. Applied in medical, laboratory, water purifying, laundry, agriculture, etc
5. Compact assembly, it can be movable with wheel

28g ozone generator
Gas flow
Ozone Conc.
Ozone flow
Oxygen Purity
L/min
mg/L
G/h
%
1.0
71.0
4.3
96.8
2.0
69.0
8.3
96.8
3.0
67.0
12.1
96.8
4.0
64.0
15.4
96.8
5.0
60.0
18.0
96.8
6.0
61.0
22.0
96.8
7.0
59.0
24.8
96.8
8.0
58.0
27.8
96.8
The 28g commercial ozone generators can be used in various applications such as water treatment, air purification, and odor removal. It is also suitable for use in industrial and commercial settings such as food processing plants, hotels, and hospitals.The device is easy to install and operate, and it comes with a user-friendly control panel that allows you to adjust the ozone output according to your specific needs. It is also designed to be durable and long-lasting, making it a reliable and cost-effective solution for your ozone generation needs.